Paco López-Cerón, new associate in Barcelona responsible for the development and expansion in the Murcia area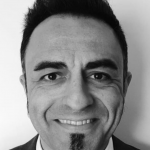 teamOn is delighted to announce a new member of its team, Paco López-Cerón will be the new associate responsible for the area of Murcia.
Agricultural Engineer by the Polytechnic University of Valencia and Master's in Renewable Energies by the Universitat Autònoma de Barcelona. More than 20 years of experience in the Industrial and Agricultural sector. López-Cerón has worked for firms like BASF, AGRICHEN, MONSANTO, NOVARTIS, ING, and UMP Europe – GEMTEK.
This announcement is part of teamOn's expansion strategy in Spain, which has been acknowledged by various public events in the past few months. In the last two years, teamOn has added partners/associates in Marbella, Alicante and Murcia.
For more information:
Contact: teamOn Barcelona
Ian Carbó
Tel: +34 932720861
ian.carbo@teamon.es